Public Shows in Times Square
Field Trips for Student Groups
Private Events – Sweet 16, Quinceañeras, Bar/Bat Mitzvahs, etc
Touring Company
The cast of EIGHT IS NEVER ENOUGH delivers hilarious interactive musical comedy based on audience suggestions and participation. Many are invited on stage to directly help shape scenes while the entire audience is called upon to provide ideas for scenes and songs. The quick-witted cast works together to deliver high impact fast paced comedy that is age-appropriate. Attend a public show in Times Square, book a private event at our NYC club or bring this show anywhere in the country.
We have public shows every week at the Broadway Comedy Club, 318 West 53rd Street, New York, NY 10019  all year long. Our signature show LMAO OFF BROADWAY features the cast of EIGHT IS NEVER ENOUGH. Matinees are all ages friendly. Evening shows, while geared for a more adult audience, are fine for most teens (PG-13). HAPPY OUR and other shows cases feature long-form Improv teams, guest comics and even musical acts. We also have discount tickets to stand-up comedy which may be attended by teens when traveling with parent/guardian.
IMPROV COMEDY – CLICK HERE for discount tickets
STAND-UP COMEDY – CLICK HERE  for discount tickets
COMEDY CLASSES – CLICK HERE
Click link, select date/time you wish to attend, select discounted options in blue. Tickets at the theater run $20-25pp. $5-10 via above links.
Arrive at the theater 30-45 minutes prior to show time for best seating. These rates, exclusive to IMPROV 4 TEENS are better than group rates in many cases. In fact these are more "seat filler" rates found on most discount sites like groupon. Most Improv shows require a 1-drink minimum (soda, juice, bottled water count). Stand-Up Comedy shows require 2-drink minimum.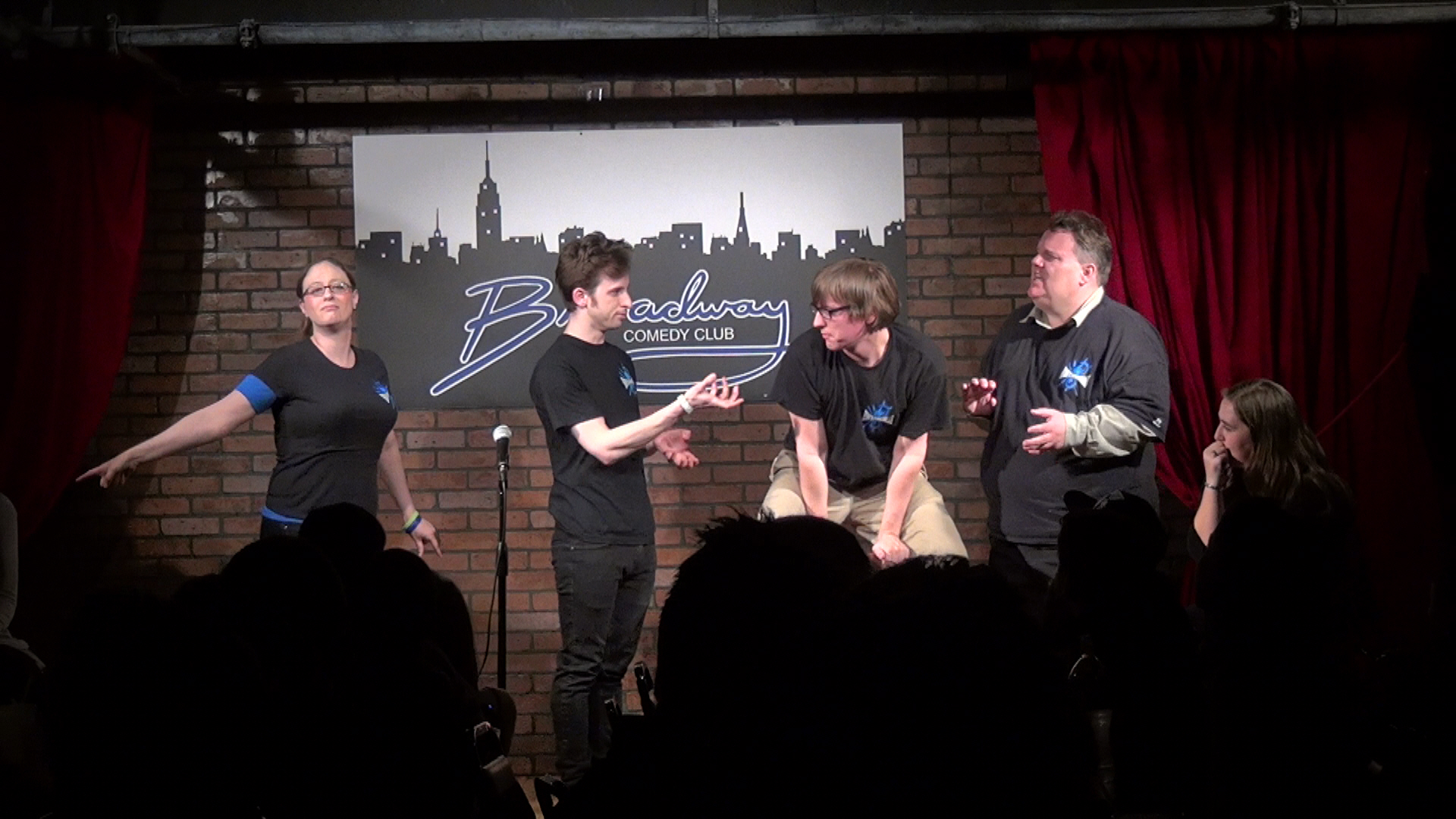 Field Trips for Student Groups
We add shows daily for field trips, after school and evening as well as all weekend long. This section designated for groups form schools, camps, community centers, scouts and other non-profit organizations.
Hilarious Improv Comedy by EIGHT IS NEVER ENOUGH is a fun alternative to Broadway and Off-Broadway field trips and our rates open these great theater-going trips to a far greater audience. The shows themselves have huge benefit. Laughter alone is great for increasing health while reducing stress. Studies at John Hopkins show better test prep and scores. "Humor and creativity work in similar ways," says humor guru William Fry, M.D., of Stanford University. "By creating relationships between two disconnected items, you engage the whole brain."
Pair with a workshop and increase educational value ten fold. Before or after show, depending on schedule needs, our teachers introduce students to basic Improv performance (YES! And…,  Establishing the Who, Where, What, etc) concepts while teaching valuable life skills (Creative writing, Critical Thinking, Team work, Respect, Listening, Focus, Eye Contact, Leadership, Public Speaking, Self-Confidence and more). Every workshop starts with a warm-up that gets the individual and team ready to rock. Technique games build a language and skill set. Performance games get students applying what they learn. A short workshop with our professional teaching artists is often enough to inspire students to create their own comedy troupes and clubs at school, which furthers the educational programming.
Smaller groups at public shows (10ppl +)
$25pp includes show, workshop and lunch (Pizza & Bottled Water)
you may also purchase alla carte discount ticket options via links above.
LARGER GROUPS – Daytime
$500 for up to 40ppl. 60-minute show, Q&A plus time to eat lunch before/after
Additional guest $10pp
$1200 up to 150 students plus chaperons (max capacity 168)
LARGER GROUPS – Evening (After 5pm)
$1000 private show for up to 50ppl
Additional guest $20pp (Max capacity 150ppl)
Add on Options
Add 45-60 minute workshop $5pp
Add Lunch (Pizza Party) $8pp
Chicken Fingers and Fries Dinner $15pp + tax/tip
Add Gourmet Deli Wraps, Salads, Chips, Cookies (Most popular adult group lunch option) $22pp + tax/tip
All lunch/dinner options include non-alcoholic beverage. Usually bottled water as schools and parents request we don't serve soda.
BROADWAY CLASSROOM
Book a workshop w/o show for as little as $300 – includes teacher and room rental up to 30ppl. however groups of 20 or less recommended for best results. Up to 2 hours.
CLICK HERE for 2016-2017 Price List
Email today for more information on booking your group!
BRING THIS SHOW/WORKSHOP PROGRAM TO YOUR SCHOOL
Assemblies
After-School
PTA/PTO/Family Nights/Fundraiser
Back to School Events
Field Day
Residencies
Professional Development for teachers
Rates vary per region and season. Email today for more information.
IMPROV COMEDY at your NEXT PRIVATE TEEN / FAMILY EVENT
Graduation
After Prom
Birthdays
Sweet 16
Bar / Bat Mitzvah
Family Reunions
Corporate Sponsored Family Functions – Picnics, Holiday Parties, etc